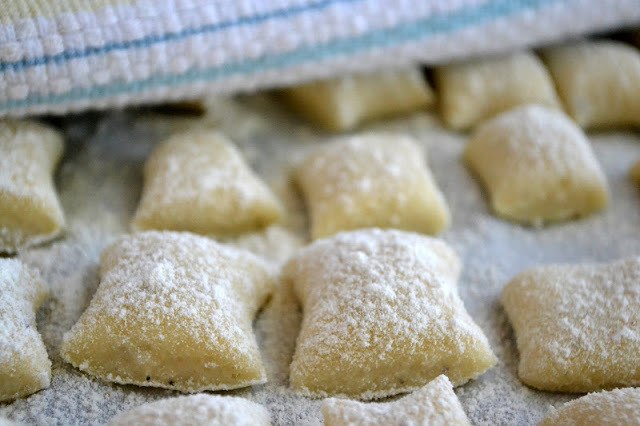 Homemade Gnocchi
Recipe by The View From the Great Island
Visit website
---
---
Super Easy Homemade Gnocchi ~ this light homemade pasta dumpling recipe is made with fluffy baked potato in the dough and is so easy to make!
---
---
Ingredients
1 cup all purpose flour

½ tsp nutmeg, freshly ground

½ tsp salt and pepper to taste

2 russet potatoes

(mine weighed about 1 1/2 lbs)

1 egg yolk
---
---
Method
Set oven to 400F
Whisk the flour, nutmeg, salt, and pepper together and set aside.
Wash and prick the potato skins. Bake for about an hour, or until they are fully cooked and soft when you insert a fork.
Let them cool for a couple of minutes, then cut them in half lengthwise.
Using a fork, scoop out the potato into a bowl, you want the potato to be fluffy, without large lumps. (You can do this ahead of time if you want to)
Add the egg yolk to the potatoes, working in with the fork until combined. Keep the fluffy texture going.
Add the flour to the potato and egg, working with your hands to combine it together into a dough.
Turn the dough out onto a floured work surface and knead it for 3 or 4 minutes, until smooth.
Break off about a fifth of the dough and gently roll it out into a long rope, about 3/4 inch thick.
Cut the rope into 1 inch bits, and place on a baking sheet. Dust with flour.
Repeat with the rest of the dough. Now you are ready to cook, or freeze the gnocchi.
To freeze, set the tray right in the freezer and let set for 30 minutes, then pop the gnocchi into freezer bags. They can be cooked from frozen in the same way as fresh; don't defrost.
To cook, boil a large pot of salted water and cook the gnocchi in batches for just 2 minutes. They will rise to the surface when they are done.
Serve hot with your favorite sauce, or just add butter and cheese.