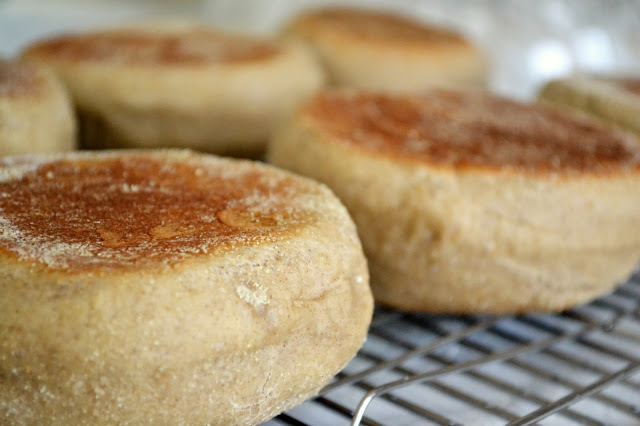 How to Make Easy English Muffins
Recipe by The View From the Great Island
Visit website
---
---
How to Make Easy English Muffins ~ this simple recipe yields tall, fluffy, flavorful English muffins, and they cook right on the stove top!
---
---
Ingredients
1¾ cups lukewarm milk

(about 110 degrees)

3 tablespoons softened butter

1¼ to 1 1/2 teaspoons salt

(to taste)

2 tablespoons sugar

1 large egg, lightly beaten

(room temperature)

3 cups bread flour

1 cup buckwheat flour

½ cup oat flour

2 teaspoons instant yeast

semolina or farina, for sprinkling on the griddle or pan

(you can also use cornmeal)
---
---
Method
Put everything except the semolina into the bowl of a stand mixer fitted with the paddle attachment (not the bread hook) Alternatively, if you have a bread machine you can set it to the dough cycle.
Mix the dough on medium speed for about 5 minutes, The dough should come away from the sides of the bowl and be smooth and quite elastic. I had to scrape the sides of my bowl a couple of times.
Scrape the dough down into a rough ball and cover with plastic wrap. Let rise in a warm place for about 2 hours until risen and puffy.
After the rise, gently deflate the dough. This dough will be softer than traditional bread doughs, so just handle it carefully. Turn it out onto a surface that has been dusted with the semolina, or corn meal, and form it into 12 pieces. (First cut the dough in half, then cut each half into three pieces, and cut each of those pieces in half)
Form the pieces into rounds, and then flatten them into disks about 3 1/2 inches in diameter. Make sure they are dusted on both sides with the semolina. Cover loosely with plastic and let rest for about 20 minutes. They will puff gently.
Spray your griddle or large cast iron pan with a little cooking spray, and sprinkle with a little semolina or corn meal. Cook the muffins on a low to medium low heat for about 15 minutes on each side, until they are golden browned and done. You can test for doneness with an instant read thermometer...the inside should register 180 to 200 degrees F. If they are very brown before getting thoroughly done on the inside, transfer them to a 350F oven to finish cooking.
Be sure to use a fork to split the muffins to bring out that famous English muffin texture.