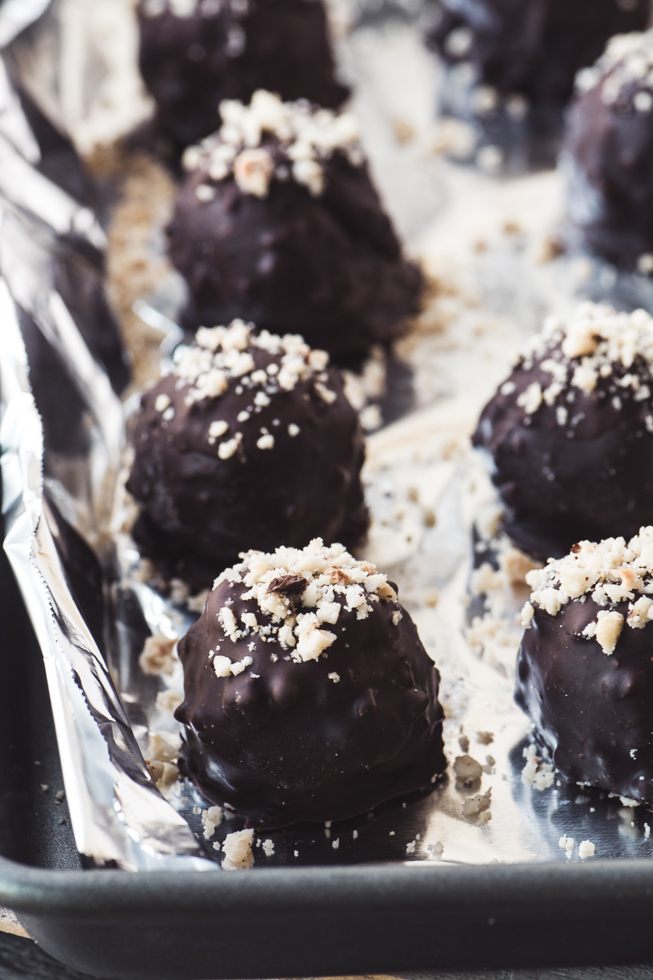 How to Make Homemade Ferrero Rocher Truffles
Recipe by The View From the Great Island
Visit website
---
---
How to Make Homemade Ferrero Rocher Truffles ~ this is it guys, the ultimate decadent treat made right in your own kitchen!
---
Servings
makes 24 truffles
---
Ingredients
1 cup whole hazelnuts, plus 24 whole hazelnuts for candy centers

1 cup of crushed wafer cookie crumbs

1 cup chocolate hazelnut spread, such as Nutella, that has been refrigerated for at least 2 hours, or over

3 cups dark chocolate chips

2 tsp coconut oil
---
---
Method
Set oven to 350F
Put the hazelnuts on a dry baking sheet and bake for 12-15 minutes, giving the pan a shake once or twice during that time.
Let the nuts cool, and then rub them in a clean dish towel to remove the bitter skins.
Grind the nuts in a food processor until they are finely ground, but don't grind them too far or you'll get hazelnut butter! I like to pulse the machine until I get the results I'm after. Remove the nuts to a bowl.
Put the crushed cookies in another bowl. Combine half of the chopped nuts with the crushed cookies and mix well.
Use a small, 1 inch scoop to form small balls of the chilled hazelnut spread and push a whole hazelnut into the center. Bury the nut and then roll each ball in the nut/crumb mixture. Make sure to get each truffle well coated. Set the balls onto a foil lined baking sheet.
When you have finished with all the balls, place the baking sheet in the freezer for one hour, until the truffles are very firm.
Meanwhile heat the chocolate chips and coconut oil in a microwave safe bowl in the microwave for one minute. Stir, and then, if necessary, microwave for additional short spurts of 15 seconds, stirring in between, until completely melted.
Set aside 2 tablespoons of the remaining crushed nuts for garnishing your truffles, and then mix the rest into the melted chocolate.
Line a fresh tray with parchment paper or a silicone mat. I like to keep the truffles in the freezer until I'm ready to dip them, so I remove a few at a time and work in batches. Dip each truffle into the chocolate, let the excess drip off, and set on the lined tray. Dust with crushed hazelnuts.
The truffles will firm up eventually at room temperature, but I like to put them in the refrigerator to harden, and then you can set them on a tray, or package them however you like. I store them in the refrigerator until I'm ready to serve or gift them.