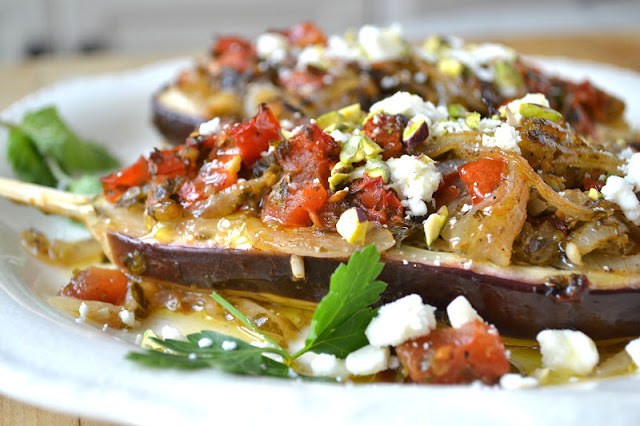 Imam Bayildi, 'The Priest Wept' (Turkish Stuffed Eggplant)
Recipe by The View From the Great Island
Visit website
---
---
Imam Bayildi is a vegetarian Turkish eggplant dish that is rich in flavor and so easy to make!
---
Servings
serves 4 as an appetizer or 2 as a light meal
Cuisines
---
Ingredients
2 medium eggplants

½ cup olive oil

1 large onion

4 cloves garlic

pinch pf allspice

pinch of cardamom

2 large tomatoes

¼ cup finely chopped parsley

¼ cup finely chopped mint

2 tbsp dill

juice from a lemon

salt and pepper

feta cheese for garnish

chopped pistachios for garnish
---
---
Method
Set oven to 350F
Halve the eggplants lengthwise and cut a small section off the rounded bottoms so they will sit in the baking dish securely. Using a vegetable peeler, peel a few strips of the peel off to make a striped effect. This will allow the juices and flavors to penetrate into the eggplant better. Finally, make a slit down the center of the flesh, being careful not to cut all the way through. Lay them out in a rectangle baking dish.
Using a grapefruit spoon or melon baller, cut away a small amount of the flesh to make room for the filling. This step is optional, you can also just pile the filling right on top. Season the eggplant with salt, pepper, and the juice of half the lemon.
Halve the onion and finely slice it. Mince the garlic.
Heat about 1/4 cup of the oil in a pan and saute the onions and garlic for about 20 minutes, on medium low, until they are soft. Add in the allspice and cardamom.
Chop the tomatoes and add to a bowl along with the fresh herbs, juice of 1/2 the lemon, salt and pepper.
Mix the onions with the tomatoes, making sure everything is evenly combined.
Top each eggplant half with a mound of filling. Put any extra filling as well as 1/4 cup of water in the pan around the eggplant.
Drizzle the eggplant with the remaining oil.
Bake covered with foil for 1 hour, uncovering half way through.
Serve with bread to sop up the juices. This is traditionally a meze, or Mediterranean small plate.