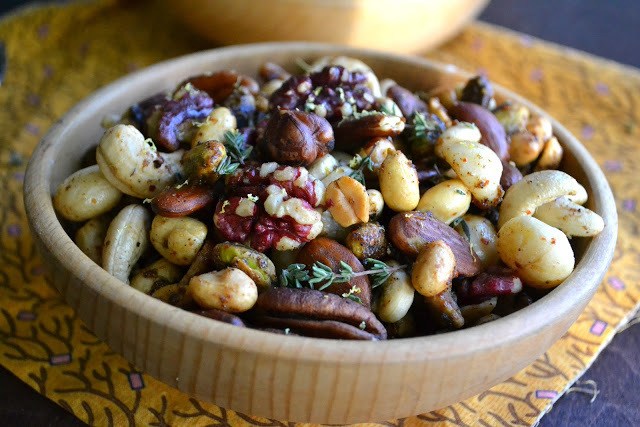 Jamaican Jerk Spiced Nuts
Recipe by The View From the Great Island
Visit website
---
---
Jamaican Jerk Spiced Nuts is a fun and festive appetizer with a intriguing combination of flavors ~ and it's so easy to make!
---
---
Ingredients
5 cups mixed raw nuts
3 tbsp coconut oil
1 tbsp brown sugar
juice of lemon
1 tbsp ground dried red peppers
1 tbsp ground allspice
1.5 tsp smoked sea salt
zest of 1 lemon
1 tsp fresh thyme leaves
0.25 tsp ground ginger
0.25 tsp ground cloves
0.25 tsp cinnamon
0.5 tsp garlic powder
---
Method
Put the nuts in a large skillet and roast them for about 15 minutes over medium heat. Stir them often, and shake the pan gently. After about 10 minutes you should start to see a hint of color on the nuts. You will hear the crackle of skins crisping, and begin to smell the aroma. Continue roasting for another 5 minutes, being extra careful not to let them burn. Don't walk away, nuts can burn in an instant.
Gently transfer the nuts onto a baking sheet.
In the same pan, add the oil, sugar and lemon juice. Heat until sizzling, and all the sugar is dissolved.
Add the nuts and the rest of the spices back into the pan and continue to roast for a few more minutes, stirring to combine everything. When the nuts have absorbed all the liquids, transfer them to a parchment lined baking sheet and spread them out to cool.
After they have cooled you can store them in an airtight container.
Just before serving, heat the nuts on a dry baking sheet at 300F for about 5 minutes. Serve warm.