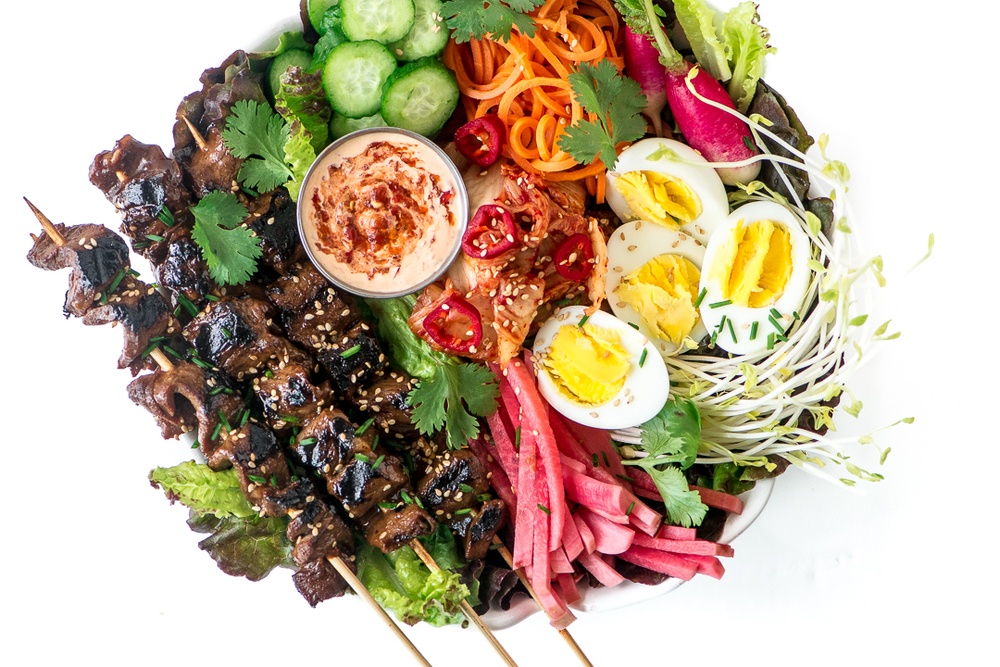 Korean Barbecue Salad
Recipe by The View From the Great Island
Visit website
---
---
Korean Bulgogi Beef Salad is steak salad, Korean style! This Korean barbecue inspired salad is topped with marinated grilled beef and a variety of veggies
---
---
Ingredients
1 lb top sirloin steak
1 9-ounce packet Lee Kum Kee Panda Brand Sauce for Korean BBQ Stir Fry
1 head red leaf lettuce, washed, dried, and torn or cut into bite sized pieces
1 cup prepared kimchee
1 cup radish and cucumber pickle
1 cup spicy carrot pickle
large handful fresh bean sprouts, any variety you like
2 -4 eggs, boiled, peeled, and halved
radish cucumber pickle
1 watermelon radish, cut into thin matchsticks
2 small Persian cucumbers, thinly sliced but not peeled
1 cup rice wine vinegar
1 cup water
2 tbsp sugar
1 tsp black peppercorns
1 bay leaf
spicy carrot pickle
1 large carrot, spiralized
0.5 cup rice wine vinegar
0.5 cup water
1 tbsp sugar
1 tsp fresh ginger
1 tsp red pepper flakes
chili mayonnaise
0.5 cup mayonnaise
2-3 tbsp chili paste or Sriracha sauce
garnish
1-2 hot red peppers
snipped chives or green onions
toasted sesame seeds
fresh cilantro leaves
---
Method
Slice the steak into thin slices, cutting against the grain. If you like you can put the whole steak in the freezer for an hour to firm it up so it will slice easier. Put the steak slices in a bowl and toss with the Lee Kum Kee Korean Barbecue Sauce to coat well. Cover and refrigerate for at least an hour, or overnight.
To make the radish/cucumber pickle heat the water, vinegar, sugar, peppercorns and bayleaf in a small saucepan until it comes to a boil, stirring to dissolve the sugar. Put the veggies in a small bowl or jar and pour the hot pickling mixture over them. Make sure they are completely submerged...if not, add a bit more hot water. Let cool, then cover and refrigerate.
Make the carrot pickle in the same manner.
Thread the marinated beef slices onto skewers. Grill the skewers over high heat, either on a charcoal grill or a grill pan on the stove. Flip once you see nice char marks on the meat.
Arrange the lettuce in a large shallow salad bowl. Put a pile of kimchee in the center. Place the eggs, pickled vegetables, and sprouts around the kimchee. Note: allow some of the pickling liquid to trickle down to 'dress' the lettuce. Lay the beef skewers across the bowl. Garnish with the red pepper slices, snipped chives or green onions, toasted sesame seeds, and cilantro leaves. Serve with the chili mayonnaise.
To make the mayonnaise, whisk the chili sauce into the mayo, adjusting the amount to your taste.