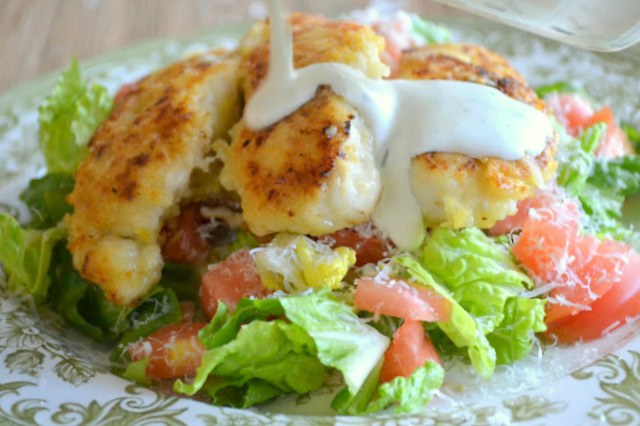 Lemon Chicken with Buttermilk Dressing
Recipe by The View From the Great Island
Visit website
---
---
THIS Lemon Chicken with Buttermilk Dressing ~ the tender crispy chicken on top of a fresh salad and drenched in creamy buttermilk dressing is hard to beat!
---
---
Ingredients
buttermilk dressing

(1 1/2 cups)

1 garlic clove

2 tbsp fresh parsley

0.5 cup buttermilk

0.5 cup sour cream

0.5 cup mayonnaise

Lemon juiced

salt

fresh cracked pepper

a handful of finely snipped chives

the chicken

about 6 medium chicken tenders

1 cup buttermilk

1 head romaine lettuce

1 tomato

parmesan cheese for sprinkling

1 cup flour

0.33333333333333 cup grated Parmesan cheese

salt and freshly cracked pepper

zest of lemon
---
Method
To make the dressing, put the garlic and parsley in the bowl of a small food processor and process until finely minced.
Add the buttermilk, sour cream, mayo, lemon juice, and chives. Process until well blended.
Add salt and pepper to taste and adjust any of the ingredients if you like. Pour into a jar and refrigerate till needed.
For the chicken, pour the buttermilk into a pie dish or square baking dish. Add the chicken and coat completely. Cover with plastic wrap and refrigerate until you are ready to cook. This can be done way in advance, if you like. Or not, your choice.
Prepare two dinner plates with chopped lettuce and tomato. Sprinkle generously with the cheese.
Mix the flour, cheese, salt, pepper and lemon zest in another pie plate or baking dish.
Coat the bottom of a saute pan with olive oil and heat until quite hot but not smoking.
Take the tenders out of the buttermilk and dredge in the flour mixture, making sure to coat all surfaces. Saute in the oil until golden brown on both sides and cooked through. Squeeze the lemon juice into the hot pan and swirl around. Most of the liquid will evaporate immediately.
Serve the hot chicken over the salad, and drizzle lots of buttermilk dressing over all.