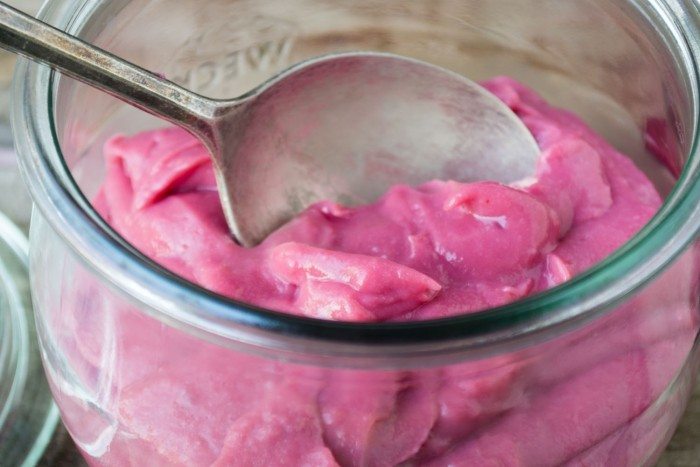 Microwave Cranberry Curd
Recipe by The View From the Great Island
Visit website
---
---
Fresh Cranberry Curd ~ A quick and easy method for making a thick tangy microwave cranberry curd --- slather it on everything!
---
---
Ingredients
1 ounce 12 bag of fresh cranberries

(they can be frozen)

½ cup sugar

1 cup pure cranberry juice, the kind with no sugar added

(or water)

1 tbsp fresh lemon juice

(optional)

2 large eggs, and 2 yolks

(at room temperature)

1 tbsp unsalted butter

(optional)
---
---
Method
Rinse your berries and put them in a medium saucepan along with the sugar and the cranberry juice. Stir to combine, and bring to a boil over medium heat, stirring to dissolve the sugar.
Let the mixture bubble away for about 5 minutes, until the all cranberries are burst.
Puree the cranberries in a food processor. Be careful when pureeing hot liquids...I loosely cover the opening at the top with a dish towel. Run the machine until the mixture is smooth, this will take about 30 seconds to a minute or so.
Push the mixture through a mesh strainer, using the back of a large spoon to make sure as much of it as possible goes through.
Measure out 1 cup of the puree. You should have enough leftover for another batch.
Whisk the eggs and yolks together in a medium microwave safe bowl. Be sure to get all the eggs well broken up.
Stir in the cup of cranberry puree and the lemon juice. Stir until thoroughly blended.
Microwave for one minute, on high. Remove and whisk.
Microwave for another 30 seconds, and whisk again.
Microwave another 30 seconds, and whisk. The curd should be quite hot and thick. You can put it in for another 30 seconds if you like. Stir well. Blend in the butter.
Push the curd through a clean mesh strainer to remove any bits of cooked egg, and then spoon it into a clean jar. Let it cool before capping and putting in the refrigerator. It will keep for a week tightly covered in the refrigerator.