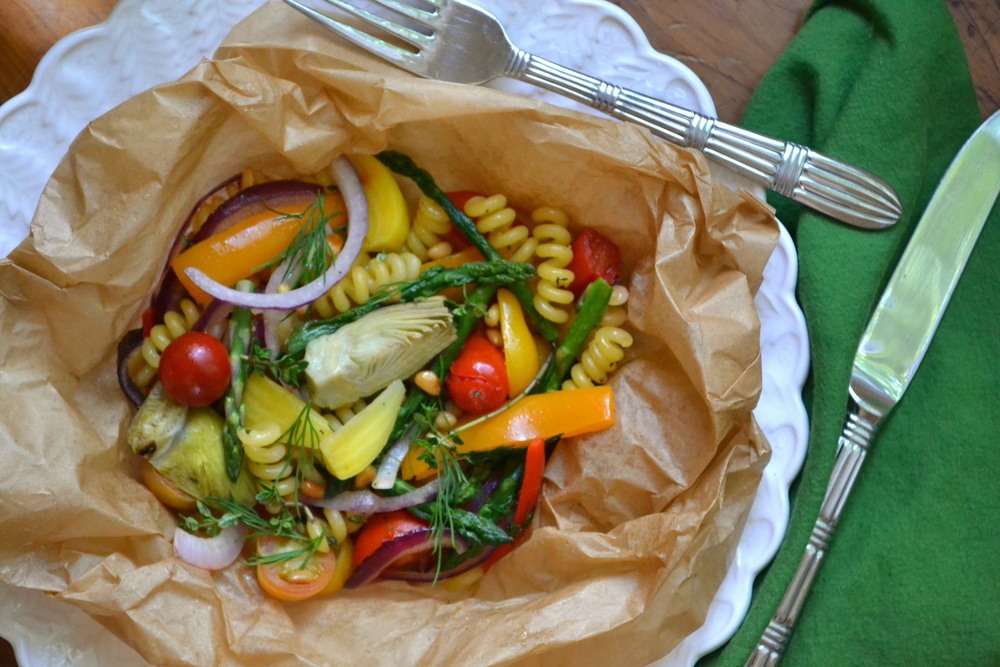 Pasta Primavera Packets with Lemon Balsamic Glaze
Recipe by The View From the Great Island
Visit website
---
---
Healthy Pasta Primavera Packets are a delicious 30 minute meal ~ unwrap your own steaming package of pasta topped with colorful veggies and herbs!
---
---
Ingredients
6 oz pasta, cooked for only half the recommended time
6 +tbsp good olive oil
0.33333333333333 cup pine nuts, toasted
0.25 red onion
0.5 yellow or red bell pepper, cut into matchstick slices
1 small yellow summer squash, cut in matchstick slices
1 pint mixed heirloom cherry tomatoes
2 handfuls baby asparagus, sliced in 2 inch pieces
2 baby artichokes, trimmed and cut in small wedges
2 baby beets, peeled and cut in small wedges
salt and fresh cracked pepper
fresh dill and thyme
parmesan cheese for garnish
4 sheets of parchment paper, approx 15"x15"
glaze
0.5 cup white balsamic vinegar
Lemon juiced
---
Method
Set oven to 350F
Take half of the cherry tomatoes and cut them in half. Leave the rest whole.
Toss the cooked pasta the olive oil, along with the pine nuts, onions, bell peppers, squash and tomatoes.
Bring a pot of water to a boil and blanche the artichoke and beets for about 2 minutes, or just until the raw edge is gone. Add the asparagus in for the last minute. Drain and add to the pasta.
Toss everything well, along with the fresh dill and thyme leaves. Season with salt and pepper. Add more olive oil if the mixture seems a little dry.
Spoon individual portions onto the parchment paper. Bring up two sides and fold over like a lunch bag. Fold the opposite sides, tucking them underneath so the packet will stay closed.
Cut a small slit in each bag for steam venting.
Bake for 20 minutes.
Open the packets and add some shavings of Parmesan and a drizzle of the Lemon Balsamic Glaze.
To make the glaze, heat the vinegar and lemon juice in a small saucepan until it comes to a boil. Simmer for about 3 to 4 minutes until reduced and thickened. Set aside.