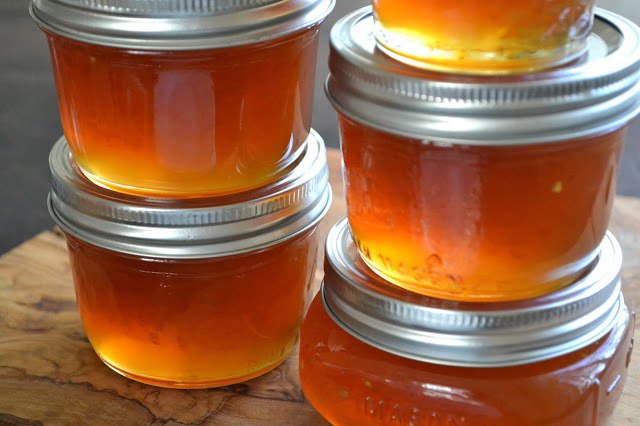 Pink Grapefruit Habanero Jam
Recipe by The View From the Great Island
Visit website
---
---
Pink Grapefruit Habanero jam is the ultimate sweet/hot experience...pair it with some cream cheese and crackers and prepare to be wowed!
---
---
Ingredients
---
---
Method
With a sharp serrated knife, slice off the rind from the grapefruits and carefully remove the sections of fruit. Do this over a bowl to catch the juices. After you've removed the flesh, squeeze the pulp to get all of the juice. Discard any seeds. You should have about 1 quart of fruit and juice when you are done. Mine weighed just under 2 lbs.
Weigh out an equal amount of sugar. I used slightly less than an exact equal amount of sugar: about 1 1/2 pounds.
Finely mince the habanero peppers, seeds and all. I did this in my mini food processor. Make sure it's finely chopped, and then add it to the fruit. Be careful, the fumes will be strong, and if you handle any part of the cut pepper you need to wash your hands well.
In a heavy bottomed non-reactive pot put the juice and fruit, peppers, sugar, vinegar and pectin. Stir to combine and heat to a boil.
Continue boiling the jam, uncovered, for about an hour. You don't have to slave over it, just give it a stir now and then, scraping down the sides of the pot. There is more liquid to this jam than in most fruit jams, so it will take proportionately longer to cook down.
When the jam has reduced and thickened, the color will darken a bit and it will look translucent. If your jam has been boiling the whole time, it should be done in an hour. You can test it by spooning a small aount on a very cold plate. If the jam thickens and gels, it's done.
Ladle the hot jam into clean jars. Quickly put the tops on and turn the jars upside down. Let them cool this way. This is a small batch refrigerator jam, meaning you are going to store it in the fridge and eat it relatively soon, so it doesn't require further processing.
Refrigerate the cooled jam. The jam will thicken overnight. The unopened jam should keep for at least a couple of months in the refrigerator. Probably much longer.