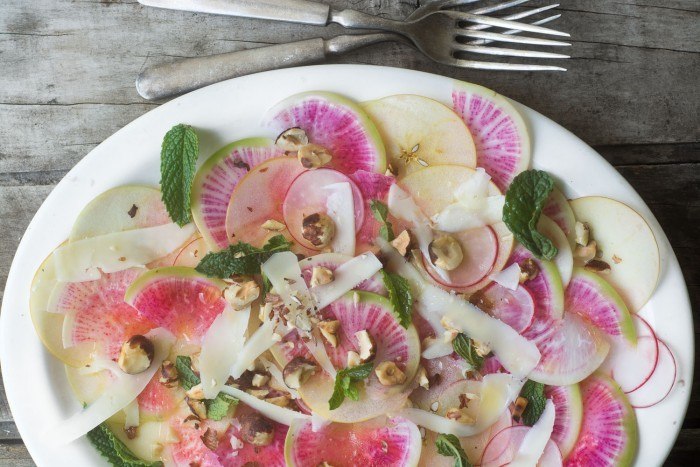 Shaved Apple and Radish Salad
Recipe by The View From the Great Island
Visit website
---
---
The pastel shades of this Shaved Apple and Radish Salad just scream spring --- it's perfect for a Mother's Day or Easter brunch, or maybe a date night dinner for two --- I feel lighter and healthier just looking at it!
---
---
Ingredients
1 medium or 2 small watermelon radishes
several regular small radishes
1 small apple, I used a Gala
squeeze of fresh lemon juice
0.25 cup toasted hazelnuts
fresh mint leaves
shavings of Wisconsin Cheddar
o Honey Apple Vinaigrette
1 tbsp O Honey Apple Vinegar
1 tbsp O Extra Virgin Olive Oil
pinch of salt and fresh cracked black pepper
---
Method
Set your mandoline sliver to the thinnest setting. I set mine just below 1/8 inch. Do a few test slices to see what works best for you. Slice the radishes and the apple. I immediately squeeze the lemon juice on the apple slices to prevent browning, be sure to coat all the surfaces.
Whisk together the vinaigrette ingredients and taste to adjust any of the components.
Toss the radishes and apple slices with the dressing, and then arrange on a platter, along with the mint and nuts. Top with the cheese, and serve right away.