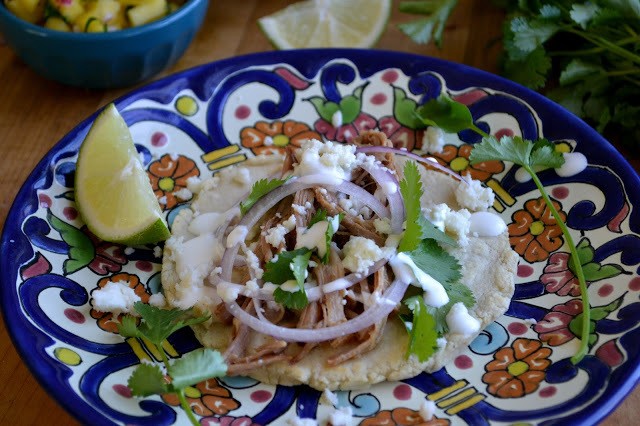 Slow Cooked Sangria Carnitas with Sopes
Recipe by The View From the Great Island
Visit website
---
---
Slow Cooked Sangria Carnitas with Sopes ~ pork shoulder slow cooked in a sangria based broth and then piled onto homemade corn sopes ~ yum!
---
Servings
Enough sopes and salsa for 4 servings ~ you will have enough meat for at least 8, depending on the s
Cuisines
Courses
---
Ingredients
carnitas
2-4 lb bone in pork shoulder
2 tbsp olive oil
1 cup water
1 cup red wine
juice of 3 oranges
Lemon juiced
garnishes:
thinly sliced red onion
cilantro
queso fresco cheese
lime cream
salsa
sopes
2 cups masa harina
0.25 tsp salt
1 tbsp shortening
1.25 cups warm water
lime cream
0.5 cup sour cream
juice of 1 lime
mango salsa
1 mango
0.25 small red onion
several Tbsp chopped fresh cilantro
juice of 1 lime
salt and pepper to taste
---
Method
Heat the oil in a heavy bottomed pot and brown the meat well on all sides. Remove the meat to the slow cooker. Deglaze the pan with the cup of water, scraping up the brown bits from the bottom. Pour that into the slow cooker with the meat.
Pour the wine and the citrus juice into the slow cooker. Cut the rind halves in half again and throw them in as well. Give it a stir. The liquid should almost cover the meat, but not quite. Cover and cook for about 9 to 12 hours. I let mine go overnight. The meat should be falling off the bone.
Remove the meat and set aside to rest. Remove the rinds, and strain the broth into a glass measuring cup, Refrigerate to cool.
Shred the meat off the bone with two forks. Refrigerate.
When the broth has cooled the fat will have risen to the surface. Remove the fat and pour the broth into a saucepan. Reduce the broth by about half, and season to taste with salt and pepper. Add the shredded meat back in and keep warm.
Layer the meat onto the sopes, along with some red onion, cilantro, crumbled queso cheese, and a drizzle of lime cream. Serve with salsa.
To make the sopes: mix the masa harina and the salt together. Work in the shortening with your fingers until it's thoroughly combined. Add the warm water until a soft dough comes together.
Take a ball of dough about 2 to 3 oz and lay on a piece of waxed paper. Put another piece of waxed paper on top, flatten slightly, and then, using a heavy pan or a tortilla press, press down so that the ball flattens into a disk about 3 to 4 inches around.
Cook the sopas for about 2 minutes on each side on a hot, ungreased griddle.
If you're not going to use these right away, cover them with a damp paper towel and plastic wrap.
To make the lime cream: mix the sour cream and lime together until smooth.
To make the mango salsa: mix everything together and refrigerate until needed.