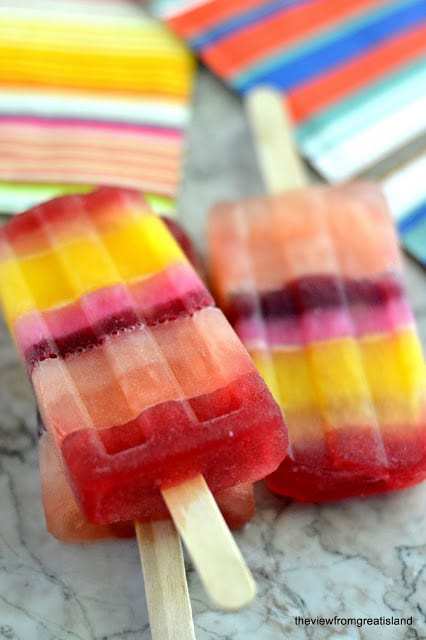 Summer Striped Popsicles
Recipe by The View From the Great Island
Visit website
---
---
Striped Juice Pops might just be summer's prettiest and healthiest frozen treat --- I'll show you how to create these beauties in a few simple steps!
---
---
Ingredients
---
Method
It helps if your juices are cold to begin with. Start by putting a small amount of one juice in the bottom of each of your popsicle molds. You can do a thick or a thin layer, or some of each, it's up to you. Put the mold in the freezer and freeze until firm, about 30 minutes.
Take a different juice for each subsequent layer. Pour the layer and then freeze again until solid.
When you are about 1/3 of the way filled, take the frozen mold out of the freezer and insert the stick. I make a little incision in the ice with a small sharp knife dipped in boiling water. Make a slit just big enough to insert your stick so it won't tip. Once you have all your sticks in place, add another layer, and keep going as above, until the popsicle mold is full.
To unmold your pops, briefly dip the mold in a sink of hot water, just up to, but not over the top. Pull out the pops. If they don't wiggle out easily, dip the mold again for a few more seconds.
To store your pops, wrap them in waxed paper.