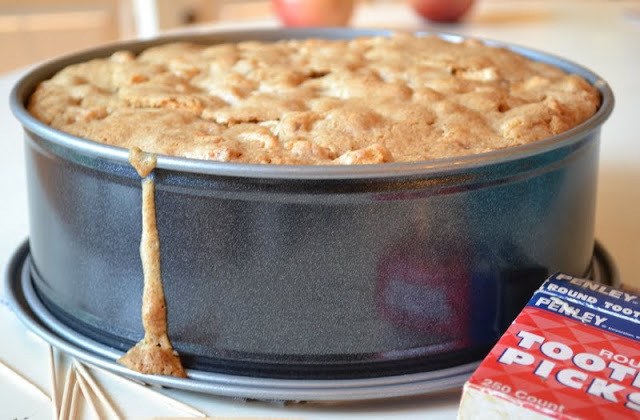 The Silver Palate Apple Cake
Recipe by The View From the Great Island
Visit website
---
---
The Famous Silver Palate Apple Cake Recipe ~ this fabulous apple dessert is from the definitive cookbook of the 80s. book, and it just screams Fall.
---
---
Ingredients
1.5 c. vegetable oil
2 c. all-purpose flour
0.25 tsp ground cloves
1.25 tsp ground cinnamon
0.25 tsp ground mace
1.25 c. walnuts
3 tbsp Calvados
2 c. sugar
3 eggs
0.75 tsp salt
1 tsp baking soda
1 c. whole wheat flour
3.25 c. coarse chunks of peeled apple
glaze
0.25 cup unsalted butter
2 tablespoons brown sugar
6 tablespoons granulated sugar
3 tablespoons Calvados or brandy
0.25 cup sweet cider
2 tablespoons fresh orange juice
2 tablespoons heavy cream.
---
Method
Preheat oven to 325F
Grease a 10 inch round cake pan and set aside.
In a large bowl, beat the vegetable oil and sugar until thick and opaque. Add eggs, one at a time, beating well after each addition.
Sift together all-purpose flour, cloves, cinnamon, mace, baking soda, and salt, then stir in whole wheat flour.
Add the dry ingredients to the oil mixture and blend. Stir in walnuts, apple chunks, and apple brandy. Stir to distribute pieces evenly.
Pour into a greased 10 inch round cake pan. Bake 1 hour and 15 minutes or until a cake tester inserted in the center comes out clean. Let cake rest for 10 minutes, then unmold and pour glaze over warm cake or cut cake and pour glaze over slices. (note: I used a 9 inch spring-form pan and cooked it almost 10 minutes longer)
To make the glaze, mix the ingredients together in a saucepan, bring to a boil, reduce heat slightly, and cook 4 minutes. Remove from heat and cool slightly. Pour while still warm over warm cake.