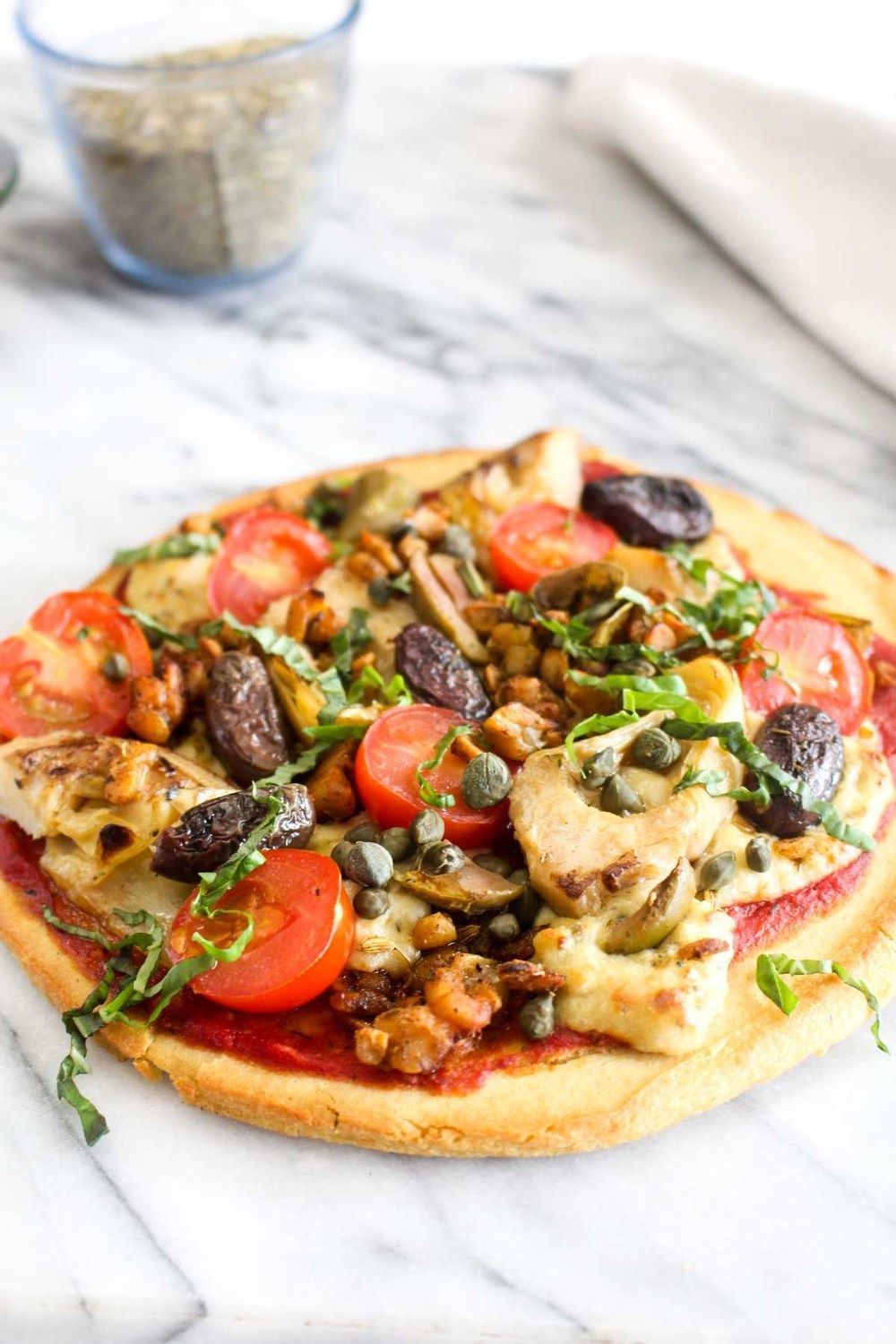 Vegan Antipasti Pizza with Gluten Free Socca Crust
Recipe by Catching Seeds
Visit website
---
---
---
---
Ingredients
1 recipe socca
1 cup raw cashews
2 tablespoons nutritional yeast
2 teaspoons mellow white miso
2 teaspoons apple cider vinegar
0.5 teaspoon salt
0.25 cup water
0.5 cup hulled hemp hearts
1 teaspoon avocado oil
0.5 package tempeh,
0.5 teaspoon Italian seasoning
0.5 teaspoon fennel seed
0.25 teaspoon smoky paprika
0.25 teaspoon black pepper
0.25 teaspoon garlic powder
pinch salt
1 oz 15 can tomato sauce
1 oz 6 can tomato paste
1 tablespoon Italian seasoning
1 teaspoon honey OR coconut sugar
1 clove garlic
0.5 teaspoon salt
pinch pepper
marinated artichokes
capers
pitted olives
basil
---
Method
Preheat the oven to 450 degrees.
Add the cashews, nutritional yeast, white miso, vinegar, salt, and water into a high speed blender. Blend until smooth, scraping down the sides as needed. Add the cheese sauce into a bowl and stir in the hemp hearts. Set aside.
In a sauté pan, heat the avocado oil over medium high heat. In a bowl, toss the crumbled tempeh with the spices. Once the oil is hot, add the tempeh into the pan. Cook, stirring occasionally, until the tempeh is browned. Remove from the heat and set aside.
Add the pizza sauce ingredients into a saucepan. Place over medium-low heat and cook, stirring frequently, until warmed through. Set aside.
Take your cooked soccas and lay them on a sheet pan. Spread each one with sauce, then top with dollops of cheese and a sprinkle of sausage. Add on the artichokes, capers, and olives. Bake for 5-7 minutes until the pizza is warmed through and the cheese is golden brown. Top with basil and serve immediately.